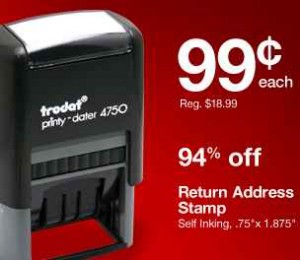 Right now you can score Self-Inking Stamps from Staples for $0.99 (reg. $18.99)!  Shipping is FREE if you upload an image to your stamp – what a great deal!  Here's how to get yours:
Visit Staples.com to get started.
Click "Order Now" in the red box with the stamp pictured.
"Get Started" to customize the return-address stamp (the first one on the list, marked down to $0.99)
Design your stamp as you wish.
Click "advanced editing" to upload a picture to your design.  (you can choose to include it in your design or slide your image outside the visible area to 'hide' it.  If you hide it you'll get a notification when you go to order that your image is not withing the margins, just select "continue without changes" to proceed).
Approve your design and click "Next" to checkout.
Enjoy your Self-Inking Stamp at this great deal!
Thanks, Passion for Savings!