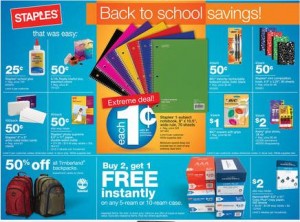 Hopefully you've found some great deals on supplies your kids will put to good use this school year!  Don't stop that back-to-school shopping just yet – Staples has some great deals this week!
Did you get a Savings Pass?  If you have a lot of supplies to buy, Staples is also offering an additional 15% off all school supplies through 9/15/12 when you buy a savings pass for $10! There are plenty of deals to be had if you're willing to shop multiple stores each week, but if you want to simplify your back-to-school shopping, the savings pass may be a good option for you.
:: Easy Rebate Deals

Staples photo supreme 8.5″ x 11″ paper, double-sided matte, $14.99 (limit 4 per household)
$14.49 Staples Easy Rebate
$0.50 after rebate!
HammerMill 8.5″ x 11″ Copy Plus copy paper, 500 sheets, $6.99 (limit 2 per household)
$4.99 Staples Easy Rebate
$2 after rebate!
:: $0.01 Deals (with $5 minimum purchase)

Staples 1-subject notebook, 8″ x 10.5″, wide rule, 70 sheets (limit 6 per customer)
:: $0.25 Deals (limit 4 like items per customer)

:: $0.50 Deals (limit 2 like items per customer)

0.14L Really Useful box, assorted colors
BIC Velocity rectractable ballpoint pens, bold
Staples mini composition book, 4.5″ x 3.25″, 80 sheets (2 pk.)
Staples 3″ x 5″ white ruled index cards (100 pk.)
:: $1 Deals (limit 2 like items per customer)

BIC erasers with grips (4 pk.)
Scentos scented markers, assorted colors
Staples writing pad, 8.5″ x 11″, assorted designs and rulings
Staples Hype grip highlighters (6 pk.)
Staples printed poly zip envelope, check size
Staples assorted patterns composition book, $1.50
Staples wireless notebook, 8.5″ x 11″, college ruled, 80 sheets, assorted colors , 1 subject
:: $2 Deals (limit 2 like items per customer)
Avery glue sticks, .26 oz – permanent (3 pk.)
Stretch pencil box, assorted colors
Staedtler Mars plastic erasers (4 pk.)
Rose Art washable markers (10 pk.)
Staedtler metal sharpener
1.6L Really Useful storage box, assorted colors
Staples memo pad – twirl pad
Staples 3.75″ x 5.5″ faux-leather memo book, 80 sheets
Wet Ones citrus disinfecting wipes (40 pk.)
BIC Wite Out correction fluid (2 pk.)
Scotch permanent foam mounting tape – foam tape
Staples Accel 1-subject notebook, wide or college ruled, 100 sheets
:: $3 Deals
Pilot FriXion Ball erasable gel pens, fine (3 pk.)
Spine Guard 1-subject notebook, college ruled, 100 sheets, $2.99 ea.
Pendaflex Write and Erase 3-tab file folders, assorted colors (12 pk.)
Expo dry-erase markers, fine (4 pk.)
Kleenex facial tissue (2 pk.)
Staedtler Xcellence math set, 10 pieces
Scotch Expressions tape, 2/$3
:: $4 Deals
Staples #2 pencils (48 pk.)
Staples 9″ x 12″ construction paper, assorted colors, 200 sheets
BIC mechanical pencils – 0.5 mm (24 pk.)
:: $5 Deals
Staples standup stapler, assorted colors
Artskills letters pack
Westcott 8″ scissors (3 pk.)
Staples letter/legal-size SureFIT blue storage boxes (4 pk.)
Pentel Wow! retractable ballpoint pens, medium (18 pk.)
Bounty paper towels (6 pk.)
Omnitech battery-powered pencil sharpener, assorted colors
Paper Mate Inkjoy pens (8 pk.)
:: $6 Deals
Charmin Basic bath tissue (16 pk.)
Post-it 3″ x 3″ Super Sticky notes (5 pk.)
:: Other Deals
50% off all Timberland backpacks
B2G1 FREE instantly on any 5-ream or 10-ream case
PNY Attache USB flash drive 8GB, $5.99 / 16GB, $9.99
25-50% off all backpacks
Buy 1 Duck Tape duct tape roll, Get 1 duct tape sheet ($1.99 value)
Save $5 on all Avery laser full-sheet labels after easy rebate
40% off any one Martha Stewart Home Office™ with Avery™ product (in-ad coupon)
Locker Accessories, $3.99-16.99
Clear Command starting at $3.95
Sharpie Metallic Permanent Markers, 4/Pack, starting at $5.49
Sharpie Stained Brush Tip Fabric Markers, 8/Pack, starting at $5.49
Sharpie Brush Tip Permanent Markers, 8/Pack, starting at $5.49