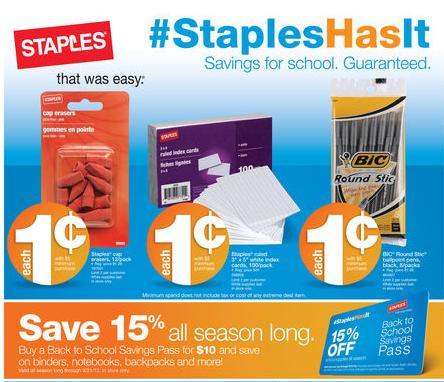 Can you believe the back-to-school deals are starting up already? Staples has some great deals this week! Plus you can grab this $5 off your $30 purchase printable coupon before you go too!
If you have a lot of supplies to buy, Staples is also offering an additional 15% off all school supplies through 9/21/13 when you buy a Back to School Savings Pass for $10! There are plenty of deals to be had if you're willing to shop multiple stores each week, but if you want to simplify your back-to-school shopping, the savings pass may be a good option for you.
:: Easy Rebate Deals
(limit 4 rebates per household)
Staples 8.5″ x 11″ Multipurpose Paper (500 sheets/ream), $6.99 ea. (limit 2)
$6.98 Staples Rewards Rebate
$0.01 after rewards!
Staples Photo Plus 4″ x 6″ paper, gloss (60 pk.), $9.99 ea.
$7.99 Staples Easy Rebate
$2 after rebate!
:: $0.01 Deals (with $5 minimum purchase, limit 2 like items)

Staples cap erasers (12 pk.)
Staples ruled 3″ x 5″ white index cards (100 pk.)
BIC Round Stic ballpoint pens, black (8 pk.)
:: $0.25 Deals (limit 2 like items per customer)

Avery Insertable Dividers (5 tab) (reg. $1.49)
:: $1 Deals (limit 2 like items per customer)

Staples Notebook with elastic closure, 3″ x 5″, 80 sheets
Westcott 9″ Recycled Scissors
Staples Pushpins (100 pk.)
Staples Glue Sticks (.26 oz., 4 pk.)
BIC Matic Grip 0.7 mm assorted mechanical pencils (6 pk.)
5″ x 8″ writing pad, assorted designs and rulings
Staples Translucent Pencil Box
Westcott 5″ Scissors (2 pk.)
:: $2 Deals (limit 2 like items per customer)
1″ Simply View Binder
Avery NoteTabs/StickyTabs
Post-it Label Pads
Staples Graph Notebook (8″ x 10.5″, 70 sheets)
Scotch Super Glue Gel (4 pk.)
Crayola Washable Markers, assorted (8 pk.)
Studio C by Carolina Pad Zip It Neon Personal Notebook, 7″ x 5″ (80 sheets)
Purell Instant Hand Sanitizer (8 oz.)
Sharpie Accent Tank Highlighters (5 pk.)
Staples Accel 1-Subject Notebook (wide or college ruled, 100 sheets, assorted colors)
Staples Fashion Clipboard
Staples Mini Stapler, assorted
Staples Pink Wedge Erasers (3 pk.)
Scotch Transparent Tape (¾ " x 300″, 3 pk.)
:: $3 Deals
BIC Wite-Out Correction Fluid Extra Coverage, 20 ml (2 pk.)
Fabric lanyards
Remarx Dry-Erase Markers, bullet tip (4 pk.)
Staples Stand-up Stapler
Staples Stickies 2.75″ x 2.75″ cube
BIC Bright Liner Tape (2 pk.)
Post-it Page Markers, bright colors (10 pk.)
:: $4 Deals
Ticonderoga Black #2 Pencils (24 pk.)
Staples Construction Paper, assorted, 9″ x 12″(200 sheets)
:: $5 Deals
Zebra Z-Grip Retractable Ballpoint Pens, medium (24 pk.)
Bounty Basic Paper Towels (8 rolls)
Sharpie Twin-Tip Markers, ultra fine/fine tip (4 pk.)
Sharpie Neon Permanent Markers, assorted (5 pk.)
All Post-it 3″ x 3″ Notes (5 pk.)
Italian Leatherette Journal with magnet closure, 6″ x 8.5″
Quartet 8.5″ x 11″ Magnetic Dry-Erase Board with marker
Omnitech Battery-Operated Pencil Sharpener, assorted
Staples Letter/legal-size SureFIT Blue Storage Boxes (4 pk.)
:: Other Deals
25-50% off all backpacks
Pentel EnerGel Deluxe retractable gel pens, medium (6 pk.), $6
PNY Attache 16GB USB Flash Drive, $9
1″ Better Binder, $7.99 -$2 binder recycling = $5.99 ea.
Kleenex Facial Tissues (2 pk.), $2.99
Save 50% Instantly on Martha Stewart Home Office Wristlets, Tablet Cases and Spiral & Stitched Notebooks
Sharpie Permanent Markers (12 pk.), $6
25% off all Command products
Spine Guard 1-Subject Notebook (college ruled, 100 sheets, assorted colors), $2.99
54-quart Plastic Storage Box with buckle-up lid, $6
Scotch Moving & Storage Tape, 1.89″ x 59.6 m (3 pk.), $10