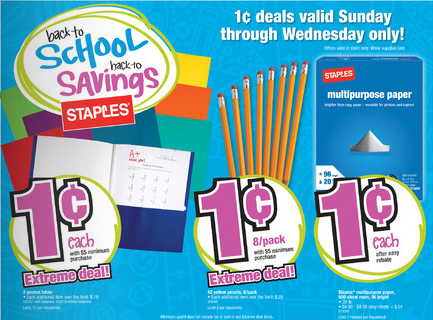 Let the school supply shopping begin!!! Staples has some fantastic deals starting this Sunday, and I'll tell you from past experience, they don't last long. You'll want to get there bright and early Sunday morning for the best selection.
Pair these deals with this new $5/$30 Staples Purchase coupon to start building your school supplies stockpile for a steal!
:: Easy Rebate Deals
Staples Multipurpose Paper, $4.99
$4.98 Staples Easy Rebate (through 7/14)
$0.01 after rebate!
Staples Photo Supreme Paper (50 pk.), $14.99
$13.99 Staples Easy Rebate (through 7/17)
$1 after rebate!
:: 1-Cent Deals (requires $5 min. purchase — through 7/14)
2-Pocket Folder w/ Fasteners (Limit 10)
8-pk. #2 Yellow Pencils (Limit 2)
:: $1 Deals (Limit 2 each)
BIC Atlantis Ballpoint Pens (4 pk.)
Post-It Novelty Shaped Notes (2 pk.)
Quartet Dry Erase Board (8.5×11)
Rose Art Colored Pencils (15 pk.)
Staples Glue Sticks (4 pk.)
Staples Hype! Grip Highlighters (6 pk.)
Scotch Magic Tape (3 pk.)
Staples Mini Stapler
Staples Pull & Seal #10 Envelopes (25 pk.)
Staples Translucent Pencil BoxWestcott Pointed Scissors (5 in.)
Thanks, Making Cents Of It!