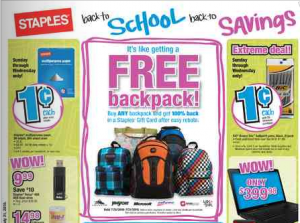 Staples is back with some more great Back To School deals this week, including a FREE backpack after Easy Rebate! Get there early tomorrow for the best selection.
:: Easy Rebate Deals
Any Backpack in stores, online or by phone
100% back in Staples Easy Rebate
FREE after rebate!
Staples Multipurpose Paper (500 sheets), $4.99 (Limit 2)
$4.98 Staples Easy Rebate (through 7/28)
$0.01 after rebate!
:: $1 or Less Deals
Bic Round Stic Ballpoint Pens, $0.01 (Limit 2 — through 7/28)
Zebra Sarasa Retractable Gel Pens (5 pk.), $0.25 (Limit 1)
Staples Hype! Pen-style Assorted Highlighters (6 pk.), $0.25 (Limit 2)
Really Useful Box (.14 liter), $0.25 (Limit 2)
B2G1 Avery Heavy Duty Binders
Staples Accel 1-Subject Notebook (100 sheets), $1.99
Recycled Notebooks and Composition Books, $1.99
:: Clip-and-Save Coupons (All Limit 2)
Scotch Shipping Tape with Dispenser, $1 w/ in-ad coupon
Scotch Magic Invisible Tape, $1 w/ in-ad coupon
Ticonderoga #2 Pencils (12 pk.), $1 w/ in-ad coupon
School Tool Kit, $4 w/ in-ad coupon
Staples Jumbo Glue Stick (2 pk.), $2 w/ in-ad coupon
Wescott 8″ Economy Scissors (3 pk.), $4 w/ in-ad coupon
Double Sided Dry Erase Board and Calendar (11″ X 14″ ), $2 w/ in-ad coupon
Pentel WOW Retractable Ballpoint Pens 18pk – $4 w/ in-ad coupon