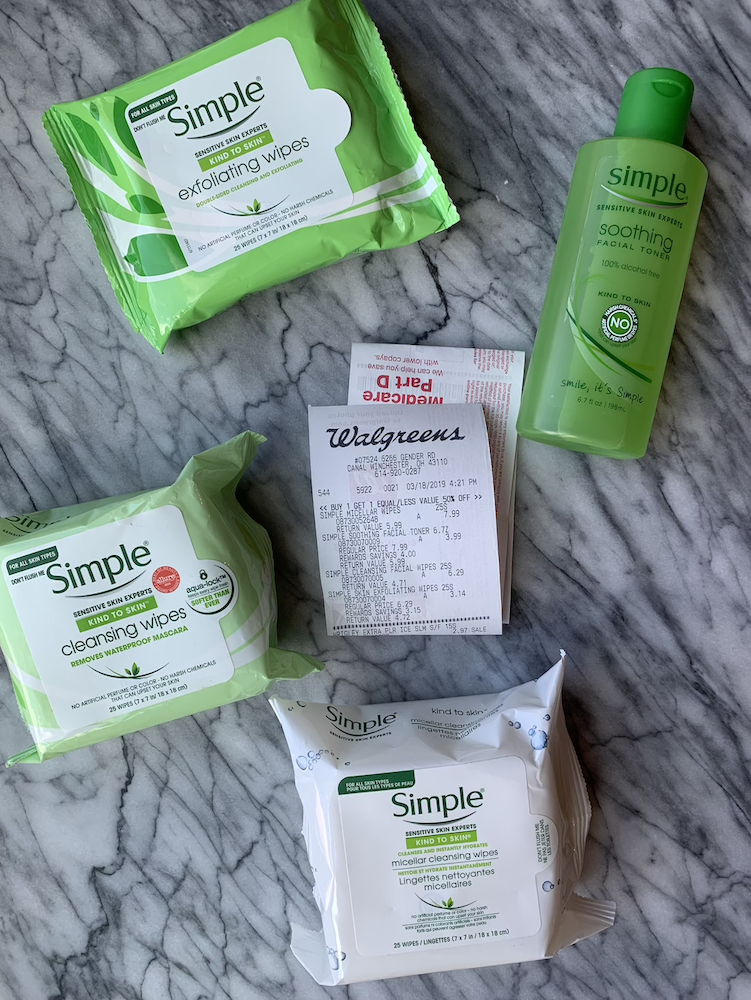 Disclosure: Sponsored by Mirum, all opinions are my own. Thank you for supporting the brands that support this site!
Cleansing, moisturizing, makeup removal — skincare can be a bit overwhelming for preteens and teens who are just starting for form their own beauty care routines. So far my girls have been blessed with relatively clear skin, but I know from experience that can change rather quickly as their bodies mature.
Starting them with a simple skincare regime now will hopefully give them a firm base of good habits that will help keep their skin clear with a healthy glow. And when I think of "simple", I naturally think of the Simple line of skincare products.
Many of you know that I've been a BIG fan of Simple Micellar Water for many years now. I still use it nightly to remove ever trace of makeup and mascara! But I know that the easier I make it for my girls, the more likely they are to actually use the products. So I'm stocking up on Simple Facial Wipes with the BOGO 50% off sale at Walgreens this week!
I mean how much easier can it be to clean your face than pulling a pre-moistened facial wipe out of a package?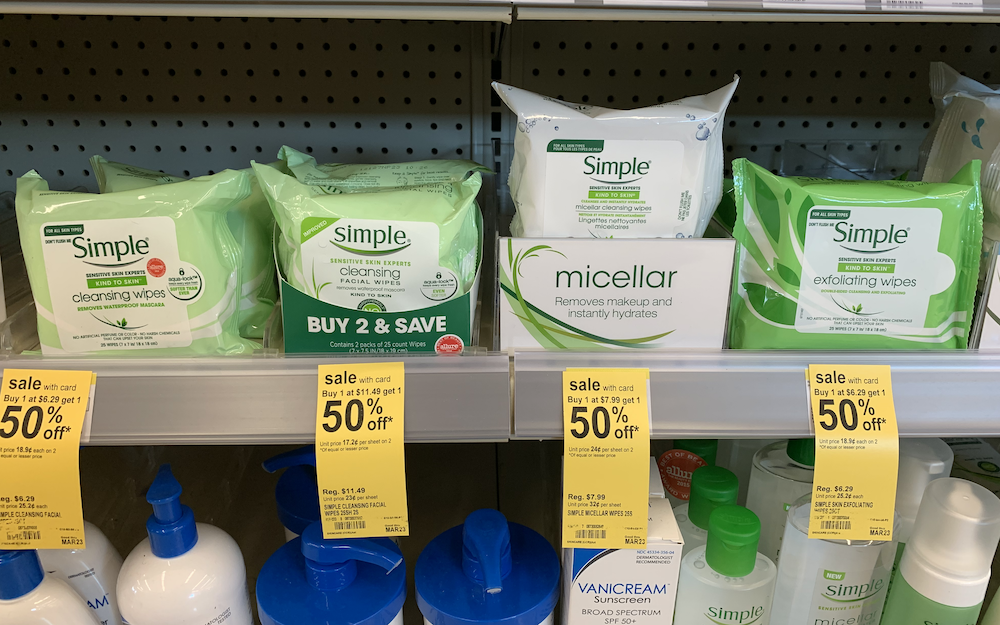 Simple Facial Wipes currently come in three different formulas, and we actually use them all for different purposes.
Simple Micellar Cleansing Wipes, $7.99 — These are the wipes my girls use daily, because they're super gentle and leave skin feeling refreshed and instantly hydrated. The Micellar Wipes will remove all makeup, including waterproof mascara, with just one wipe!
Simple Cleansing Facial Wipes, $6.29 — My older recently started getting minor breakouts along her hairline. After we determined that it was from not removing her sweaty headband directly after soccer practices and games, I picked up a pack of these Cleansing Wipes to keep in her soccer bag. They're perfect for wiping away dirt and grime, and their aqua-lock ™ technology prevents the wipes from drying out so even the last wipe is as fresh as the first.
Simple Exfoliating Wipes, $6.29 — The exfoliating wipes are MY personal favorite! They gently lift away dead skin cells, and they leave my skin looking revived and revitalized, thanks to the pro-vitamin B5 and vitamin E in them.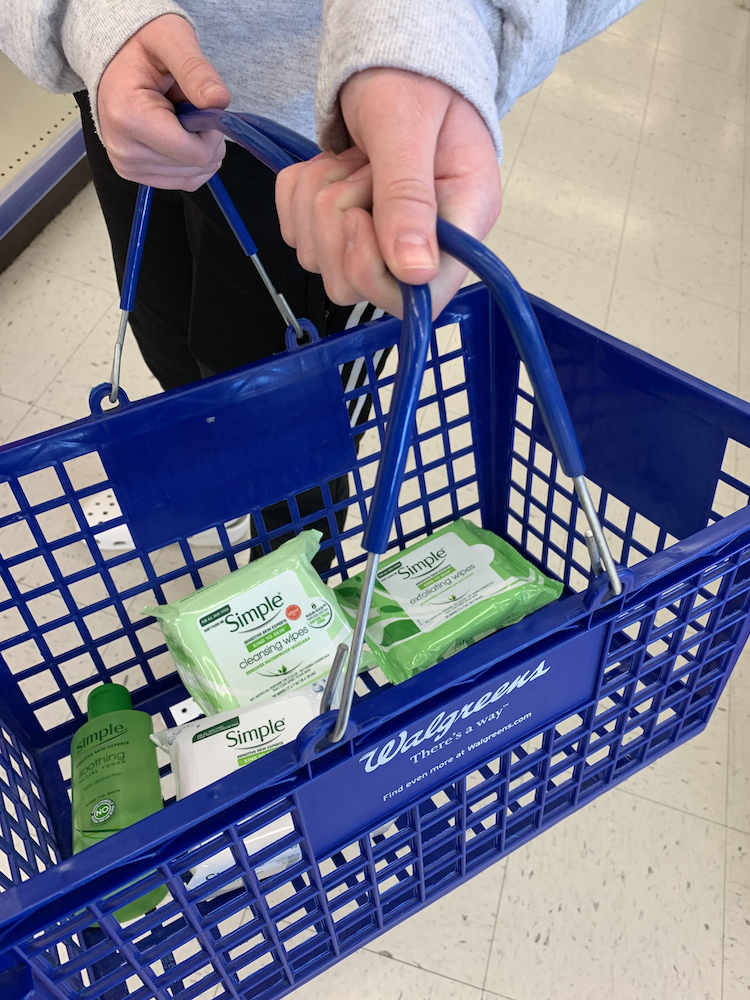 In addition to the BOGO 50% off sale at Walgreens, there was also an awesome Simple Facial Wipes coupon in the Sunday insert yesterday! Be sure to look for it to pick up a FREE package of Simple Facial Wipes when you purchase a Simple Cleanser or Moisturizer product.
Here's a deal scenario where you can pick up three different Simple Products for just $3.71 each:
Buy (1) Simple Moisturizing Facial Wash, $7.99
Buy (1) Simple Cleansing Facial Wipes, $6.29
Buy (1) Simple Exfoliating Wipes, $6.29
BOGO 50% off select Simple Products
Use (1) FREE Simple Wipes (25-ct.) wyb Simple Cleanser or Moisturizer Product, exp. 3/31/19 (RMN 03/17/19)
$3.71 ea. wyb 3 after sale and coupon!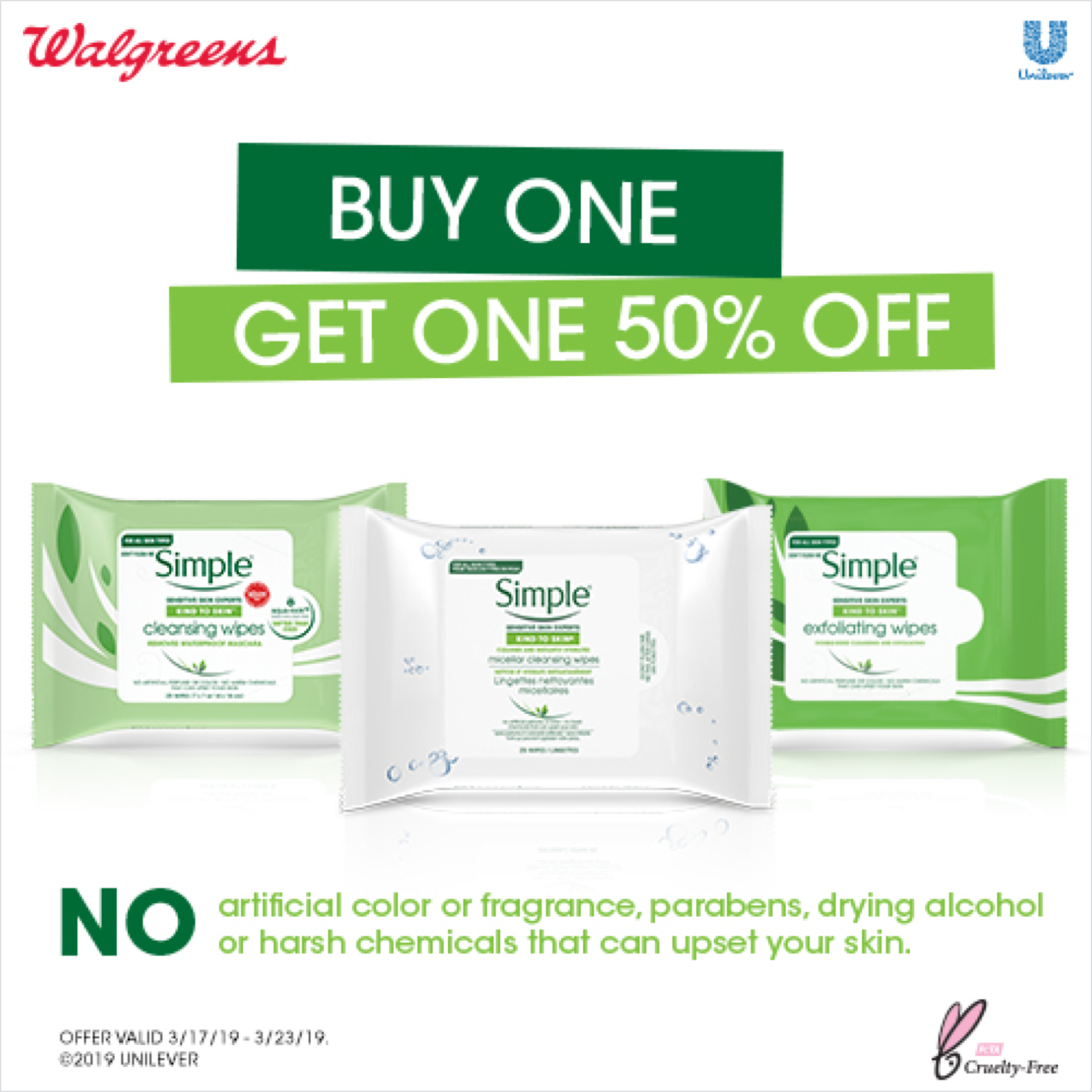 This BOGO 50% off Simple Products sale is only valid through 3/23/19, so head to Walgreens this week!