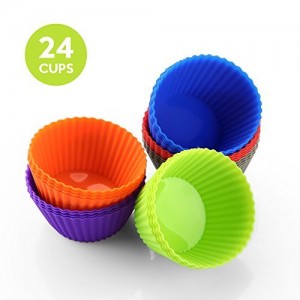 Right now from Amazon you can get this 24-pack of Silicone Muffin Cups for $9.99!  Plus you'll enjoy FREE Super Saver Shipping on your order over $25, or FREE 2-Day Shipping with your Amazon Prime membership.
Food Grade Silicone :the resuable baking cups resist stain and ordors ,Seem nice out of the box after washing in our dishwasher had an pleasant odor. They Alway hold up beautifully over time .
Easy to Clean: It is of non-stick and even the muffins will leave no any residue that needs to be cleaned.they're dishwasher-safe for quick cleanup.
Make a variety of types of cakes:Use them to make not only muffins and cupcakes, but also molded gelatins, individual cheesecakes, single-serving brownies, and other delicious desserts and treats. Beyond baking, the colorful cups can also be used to hold snacks, candy for a kid's party, or sprinkles and other edibles.Use to prepare recipes for breakfast, lunch, dinner, snack or mealtime spread. Replace your paper cake cups, muffin pan or tin, with our environmentally safe alternative.
Ideal for everyday use and special occasions: , the Reusable Silicone Baking Cups offer ultimate convenience, and they make a great choice for any baking enthusiast The baking cups can safely go in the freezer, microwave, or oven (up to 500 degrees F), and they're dishwasher-safe for quick cleanup.
Standard Size: 12.59×26.77 ×17.71 inches(top × bottom × high). Set of 24 pcs, 24 pcs multipule colors(red, orange,Purple, yellow, blue, green)
Thanks, Money Saving Mom!