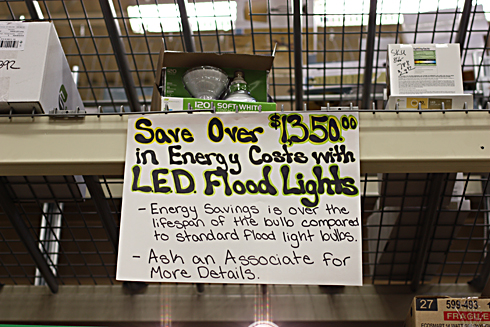 I asked you all last week what your favorite benefit of LED light bulbs is, and I think it's pretty safe to say that the longevity of them came in first. But the facts that they're mercury-free, glass-free, don't give off heat, and use far less electricity were all mentioned repeatedly as well. And check out those savings pictured above!
These were all benefits that I was also excited about, so I was really looking forward to shopping at The Home Depot to check out the selection and learn more from an expert. They provided me with some tips to review before we went shopping.
Shopping for LED light bulbs:
Identify Your Fixture Type: With so many bulbs to choose from, it's important to educate yourself about your fixture and lighting needs before you make a purchase. Light fixtures can dramatically alter the look of a room, so be aware of where shadows will fall and how that will affect the atmosphere. To ensure safety, and the maximum life of your bulb, review the information on the package to be sure you have selected the correct bulb shape for your light fixture.
Choose Your Desired Brightness: Watts, a measurement of power, is a common way traditional light bulbs are identified (ex: 60-watt, 75-watt and 100-watt bulbs). Since CFL and LED bulbs use less energy than traditional bulbs, be sure to look at the measurement of light output, known as lumens, instead of watts to select the right bulb.
Understanding Color Temperature and Intensity: When selecting an LED light, choose a color of light that suits the mood and activity taking place in your room.
With these tips in mind, we made a quick tour of our downstairs fixtures to assess our lighting needs and then headed out to The Home Depot. Upon our arrival we first had to grab one of the infamous Home Depot race car carts of course…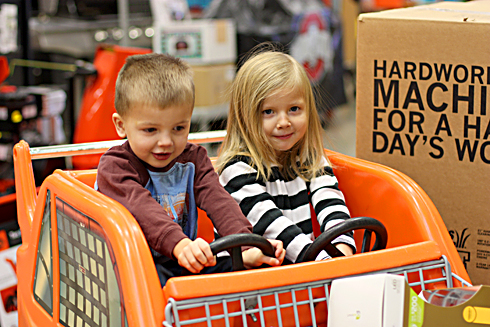 And then we were met by EJ, our local Home Depot Master Trade Specialist. He was extremely knowledgeable about the LED light bulbs and also shared a number of other tips for decreasing the energy consumption in our home. I never knew there was such a thing as a water heater timer! Definitely something we need to check out further.
I was impressed at the large selection of light bulbs carried by our local store. We have a few fixtures that call for some unusual sized bulbs, but The Home Depot has an even larger selection of LED light bulbs online.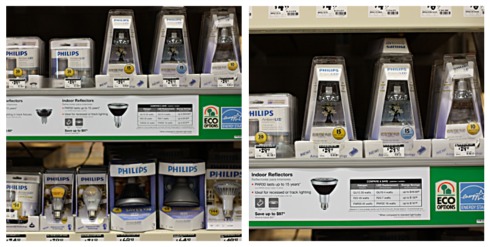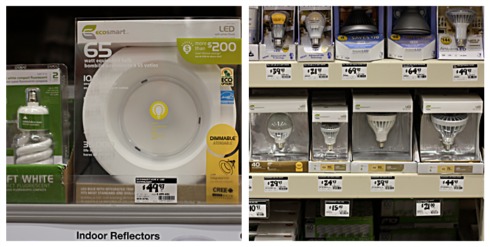 EJ made finding the LED light bulbs we needed a snap, and we filled our cart and checked out in record time. The real challenge was prying the kiddos our of their hot rod to head home.
Next week I'll share the installation process and hopefully whether we've been able to see any savings on our electric bill. But in the meantime, you can win a $50 gift card to The Home Depot!
To enter: Just leave a comment! Do you have any lighting fixtures that call for an unusual size light bulb or wattage? If so, were you able to find a suitable LED light bulb on HomeDepot.com?
This giveaway will close at noon EST on 1/21/11.
The Home Depot works with bloggers such as myself to conduct product reviews. They do not tell bloggers what to say about their products or how to say it. THD fundamentally believes that people should be free to form their own opinions and share them in their own words. The Home Depot often provides product – free of charge – to bloggers for review as they did for this post. The Home Depot's policies align with WOMMA Ethics Code, FTC guidelines and social media engagement recommendations.