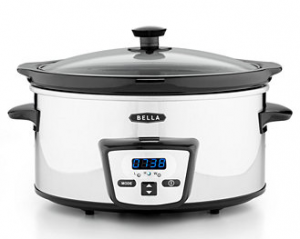 You can pick up select Kitchen Appliances for as low as $7.99 today from Macy's!  There's a group of several different kitchen appliances on sale for $19.99, and you can submit this $12 mail-in-rebate, which brings the price down to a nice $7.99 after rebate – what a great gift idea!
Bella 5-Quart Programmable Crockpot, $19.99
*Bella Toaster, $19.99
*Black & Decker 12 Cup Coffee Maker, $19.99
Bella Panini, $19.99
*Presto Griddle, $19.99
Submit $10-$12 Mail-in-Rebate
$7.99-$9.99 each after rebate!
*Note that some items have a $10 rebate offer, which makes your final price $9.99.
Thanks, My Frugal Adventures!