We're all looking to save as much as possible during the holiday season, right? Many of you may already be familiar with Upromise, but in case you aren't, I want to introduce you to this great way to save a little extra.
Upromise by Sallie Mae is a cash back rewards program. When you shop through Upromise, you'll receive a small percentage back (an average of 5% back on eligible purchases) as a deposit into your Upromise account.
That's right, while you're ordering all those holiday gifts online, you can earn money for college which can be applied to Sallie Mae student loan repayment, savings accounts, eligible 529 college savings plans or even request a check! Upromise has all of my favorite online shopping destinations, including Amazon, Target, Sephora, Walmart, and many more.
I've actually been a Upromise member since 2003, so we have a nice little nest egg saved. I love that I'm able to allocate a percentage of it to each of our kids, plus family and friends can easily contribute, as well!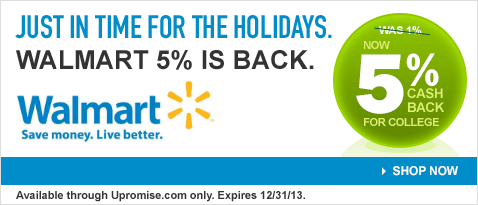 A few tips to help you save even more with Upromise:
Check out Upromise on December 10th and 17th for double the savings rewards (up to 10%) at featured online partners such as Macy's, Finish Line, and Harry & David!
Be sure to check out Upromise on December 12th for a special FREE shipping day! You'll find dozens of retailers' free shipping offerings conveniently aggregated in one place.
Download RewardU to your internet browser of choice. It will remind you when you can save with Upromise while shopping online — so simple!
So what are you waiting for? Upromise members have earned nearly $800 million in cash back for college, including a whopping $14 million just during the holidays last year. Start saving now with Upromise!
Upromise compensated me for this post. All opinions are 100% mine.