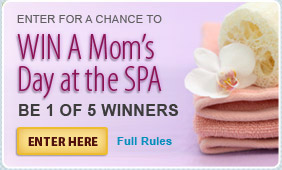 This week's Saturday Sweeps is brought to you by Kellogg's Snackpicks.
What do many moms want for Mother's Day? If you're like me, one of the number one items on your list is probably just a little "me" time. I often joke that inspiration always seems to strike when I'm in the shower, and I'm pretty sure that it's because it's often the only bit of alone time I have in the day.
Snackpicks knows that moms could use a little personal time and pampering, so they're hosting a "Win A Mom's Day at the Spa" giveaway right now. Five moms will win a $200 Gift Card that will allow them to schedule a day of relaxation at a local spa!
Enter through May 10th. No purchase necessary. Limit one (1) entry per email address, per day.
Need some other ideas for Mother's Day gifts? Check out the Top Ten Gift Ideas after you'd done entering the giveaway!
See the previous Saturday Sweeps for more chances to win!