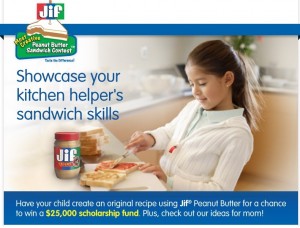 It's Saturday again and that means another round of Saturday Sweeps. Come back each Saturday, and I'll share my favorite sweepstakes for the week. I'd love to hear about a DSM reader winning big!
Last week my kids and I were able to spend an evening taste testing different Jif peanut butter combinations with a fun group of other bloggers via an online video conference. Now, I've always considered myself part of the Red Team (meaning I like the creamy PB with the red lid); however, Jif just may have convinced me that I need to switch to the Blue Team (crunchy PB with the blue lid) after trying Jif Crunchy peanut butter on baby carrots. It's a pairing I probably never would have tried on my own, but it was totally delicious!
Other combinations we tried were peanut butter and hummus — which was surprisingly good — vanilla frosting and peanut butter, and of course my favorite chocolate and peanut butter. Some bloggers were even brave enough to try peanut butter on bacon, but that one really didn't appeal to me in the least.
What I enjoyed most about the event is that it sparked an interest in my kids to try new flavor combinations and eat things that maybe they would normally turn their noses up at. Even my ultra-picky 4-year-old was at least taking a nibble of some of the more outrageous combinations.
So what's your favorite peanut butter pairing? If you need a little inspiration to try something new, check out this fabulous recipe below for Peanut Butter Apple Rings: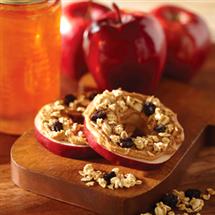 Peanut Butter Apple Rings
Ingredients:
1/3 cup Jif Natural Creamy Peanut Butter Spread
4 teaspoons honey
1/4 teaspoon ground cinnamon
1 large red delicious apple, cored and cut crosswise into 6 rings
1/2 cup granola cereal with raisins
Directions:
1. Stir peanut butter, honey and cinnamon in small bowl. Arrange apple rings on serving plates. Spread rings evenly with thin layer of peanut butter mixture.
2. Lightly press granola cereal into peanut butter mixture. Serve immediately.
See the previous Saturday Sweeps for more chances to win!