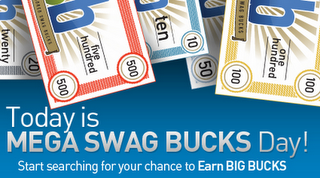 It's Mega Swagbucks Friday, and now is the perfect time to start earning. You can earn Swagbucks in increments of 10, 20, 50 and up to 100!
If you're not already a Swagbucks member, register now so you can claim 30 FREE Swagbucks, and then read through this post to learn more tips on how to maximize your Swagbucks earnings, including a list of tasks to perform daily.
Have you won any Swagbucks today? If so, what did you search for?