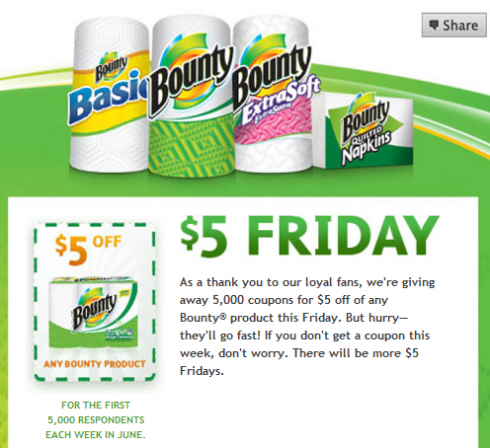 Every Friday in June, Bounty is giving away $5/1 Bounty Product coupons! Go ahead and "like" Bounty on Facebook now because these are going to go fast and you'll want to be ready.
Because 5,000 does go so fast, Bounty is doing TWO 5,000 giveaways today. The first will be between 8 and 10 a.m. ET (any minute now!), and the second will be between 10 a.m. and 1 p.m. ET! They'll post a link on their wall to the giveaway once it's open.
While you're waiting, be sure to join more than 79,201 others and become a fan of Deal Seeking Mom. You'll find more conversation, additional deals and a peek at the freebies I receive in the mail!