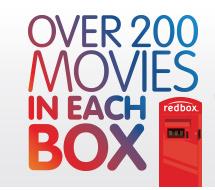 Want more Redbox codes this summer? Text INSTANT to 727272 to score surprise discounts on new summer release Blu-Rays, DVDs and video games. You'll get a new scratch card every Saturday throughout June that you can "virtual scratch off" with your finger to reveal your surprise promo code. Deals will include:
rent any DVD and get a 2nd FREE
$1 off any game rental
$0.50 off or $0.75 off any rental
$1 off any 2 discs
and get a 1-day Blu-ray rental for the price of a DVD.

Each promo code must be used that weekend. Users must join the promotion before Saturday to receive that weekend's scratch card. Redbox will also send out texts during the week for ways to earn bonus deals!