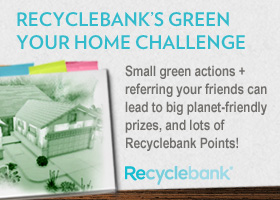 Right now you can earn up to 115 RecycleBank points easily in the Green Your Home Challenge! There are currently two rooms available:
Kitchen — earn up to 70 points
Living Room — earn up to 45 points
More rooms will be released throughout April, giving you the chance to earn additional points as well as 111 additional prizes, including a green kitchen makeover valued at $18,000! Just click on the [+] plus signs in each room to learn about green choices and earn points. Just register with RecycleBank and start playing.
What can you do with your RecycleBank points?
RecycleBank points can be redeemed for various prizes including high value coupons, magazines, gift cards and more. Many of the coupons are marked down for Earth Month, so you should be able to pick up some nice savings with your points! My current favorites are the $2/1 Naked Juice (30 pts.), $1/1 Honest Tea (10 pts.), and $2/1 Wonderful Pistachios (50 pts.).
Save up 200 points and you can select FREE product coupons for Happy Baby, Wonderful Pistachios, and Everybody's Nuts! Or redeem your 115 points right now for a one-year magazine subscription to Everyday Food, Marie Claire, Whole Living and more.
What are you savings up your Recyclebank points for?