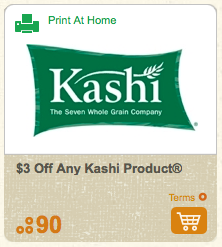 Recycle Bank currently has $3 off any Kashi Product printable coupons available in the rewards catalog. Kashi cereal is on sale for $2.99 at Target this week, so this is a great opportunity to stock up for FREE!
Right now you can earn 155 points through special offers, plus new members will earn 25 points just for registering:
Be sure to look for the Miller Coors and P&G Future Friendly Home ads in the sidebar, both of which offer an opportunity to earn 10 points in addition to the bigger quizzes.
To redeem your points, click on Get Rewards to browse all of the rewards available or head straight to the food coupons.