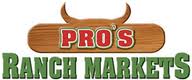 Thanks to Tracy at The Coupon Girl for compiling a list of the best deals to be found at Pro's Ranch Markets this week.
New to couponing? Read up on what all of these abbreviations mean first in my quick reference guide.
Brown Onions (5 lbs.), $0.99
Green Bell Peppers (2 lbs.), $0.99
Chicken Breasts (bone-in), $0.88/lb.
Pork Sirloin Chops (bone-in), $1.48/lb.
Holsum Thin Sliced Bread (24 oz.), $1.50
Special Value Sugar (4 lb.), $1.99
Limit 2-$2.89 after
Check out The Coupon Girl for more deals!