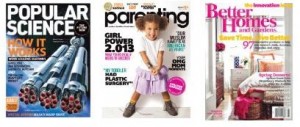 There's a large list of magazine subscriptions for $5
at Amazon.com!  These subscriptions include auto-renewal, which is a nice feature and certainly nothing to scare you away from this great price.  Auto renewal guarantees that you will never miss an issue, your subscription will always renew at the lowest price available on Amazon.com, and you'll avoid multiple renewal notices. You can cancel the auto-renewal anytime with Amazon's Magazine Subscription Manager.  These could make some great gifts for the moms, dads and grads on your gift list this summer!
Thanks, Clipper Girl's Saving Spot!