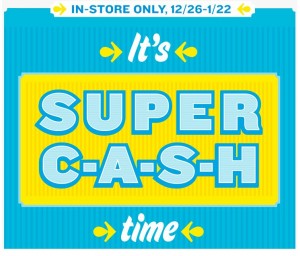 Get $10 in Super Cash for every $20 you spend at Old Navy now through 1/22/12! You can get up to $30 in Super Cash per transaction.  You'll be able to redeem your $10 Super Cash coupon(s) from 1/27/2012-2/8/2012. This offer is valid only for in store purchases.
To find the best dollar-stretching deals, check out Old Navy's Holiday Sale, with 75% off in stores and 50% off online (plus FREE shipping with your purchase of $50 or more online).
Thanks, Southern Savers!