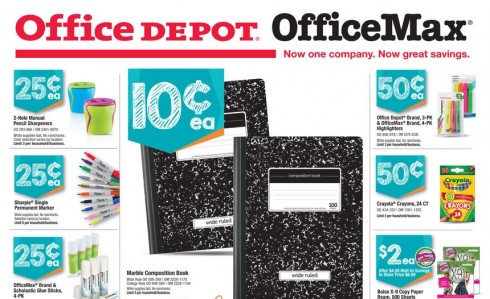 Office Depot has some good back-to-school deals this week as well – like the ever-handy Marble Composition Books for $0.10 and crayons for $0.50!  Be sure to join Office Depot Rewards for FREE.  Office Depot Rewards members get 10% back in reward points on ink, toner, paper and copy/print/ship services.  Every 1,000 points = a $10 Rewards Certificate!  Office Depot Rewards certificates are issued monthly.
:: $0.10 Deals (limit 3)
:: $0.25 Deals (limit 3)

2-Hole Manual Pencil Sharpeners
Sharpie Single Permanent Markers
OfficeMax Brand & Scholastic Glue Sticks, 4-pack
:: $0.50 Deals
Office Depot Brand, 3-PK & OfficeMax Brand, 4-pack Highlighters
Crayola Crayons, 24 ct.
:: $1 Deals
Zipper Seal Sandwich Bags, 50-pack
Zipper Seal Freezer & Storage Bags, 1 Gallon, 15-pack
5″ Scissors
Office Depot Brand and OfficeMax Brand Wood Pencils, 12-pack
Scholastic Art Markers, 10-pack
:: $2 Deals
Boise X-9 Copy Paper Ream, 500 Sheets
Sharpie Accent Tank-Style Highlighters, 4-pack Yellow, Assorted
Pentel Hi-Polymer Erasers, 3-PK & 4-pack
Scotch Single-Use Super Glue Gel, 4 pack
Scotch Removable Foam Mounting Squares, 16-pack
Scotch Craft Glue Stick, 2-pack
:: $3 Deals
Wilson Jones Heavy-Duty 1″ View Binders and OfficeMax Brand Durable 1″ View Binders
Pentel Clic Eraser, 3-pack
Sharpie Liquid Pencils, 2-pack+ 6 Erasers
ALL Sharpie Chisel-Tip Permanent Markers, 4-PK Black
Office Depot Brand Boutique Box Facial Tissues, 3-pack
PaperPro Nano Mini Stapler
Office Depot Brand & OfficeMax Brand Name Badges, 100-pack
BIC Wite-Out Quick Dry Correction Fluid, 2-pack
:: $4 Deals
ALL Sharpie Pens, 4-pack
BIC Automatic Mechanical Pencils, 2-pack
Expo Dry Erase Chisel-Tip Markers, 4-pack
Gear Head OM3400U 3-Button Optical Mouse
:: $5 Deals
Office Depot Brand 1″ View Professional Binders & [IN]PLACE EVERBIND 1″ View Binders
ALL Pentel Automatic Sharp Mechanical Pencils, 2-pack
Sanford Flip Chart Bullet-Tip Markers, 8-pack
ALL Sharpie Permanent Markers, 12-pack
ALL Pentel EnerGel Deluxe RTX Gel Pens, 5-pack
ALL Wow! Ballpoint & Gel Pens, 12-pack
Zebra Z-Grip Retractable Ballpoint Pens, 24-pack
Zipit Monster Pencil Pouch
#10 Clean Seal Security Envelopes, 100-pack
Lenticular Pencil Box
:: Other Deals
SwissGear Student Backpack, $10 ea. (reg. $24.99)
3M Command Mounting Items, B1G1 50% off
ALL Scotch Tape and Dispensers, B2G1 FREE
ALL Post-It Notes & Dispensers, B2G1 FREE
Scotch Expressions & Fashion Duct Tape, B2G1 FREE
ALL Avery Full Sheet Labels, B2G1 FREE
Five Star Notebooks, Portfolios & Pencil Pouches, 25% off
FREE Case & Earbuds Bundle + McAfee LiveSafe Service with participating Tablet purchase
ALL HP Photo and Presentation Paper, B1G1 FREE
$20 Office Depot or OfficeMax Gift Card with purchase of 2 participating HP Toners
JumpStart Advanced 1st Grade Version 3.0, $9.99 (reg. 19.99) Save $10 on ALL JumpStart software titles when you purchase a backpack