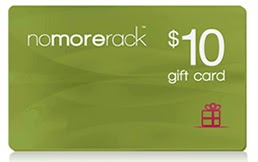 New daily deals sites seem to be popping up, well, daily — but No More Rack has actually been around for awhile. However, if you sign up right now, you'll get a $10 credit to use on a future purchase of $20 or more! Much like the recent Rue La La offer, this could make for some very inexpensive deals, and shipping is only $2 per order.
This $10 credit offer won't last long, so here's how to get it:
Make note of the code you receive during registration for your credit. Most people are receiving P1070, but it can vary.
Click on My Profile, then select Redeem a Gift Card and enter your code.
Don't see anything you're interested in right now? I still recommend registering for your credit because you just never know what will pop up. Many of today's offers are already sold out, but they'll have a new bunch tomorrow!
As an added bonus, you can earn FREE Apple products when you refer friends right now. Refer 35 to receive an iPod Shuffle, 65 for an Apple TV, 100 for an iPod Nano and so on — you could even get a 16GB iPad! This special offer ends tomorrow 12/16, so you need to act fast.
Yes, I did use my affiliate link in this post — I'd love to surprise my husband with an Apple TV for Christmas or something even nicer! However, I know that some of you may not be comfortable with this, so feel free to sign up with No More Rack directly.