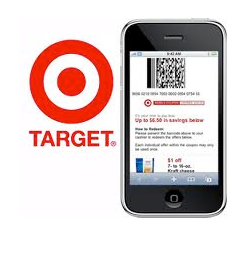 Today you can text THANKS to 827438 to get a new batch of Target Mobile Coupons! Here's what you'll find included in this batch:
$1 off Fresh Fruit Purchase of $1 or more
$1 off Fresh Meat Purchase of $1 or more
$0.50/1 eggs- half dozen or larger
$1 off Fresh Vegetable Purchase $1 or more
$1/3 Simply Balanced Yogurt
$1/2 Market Pantry Cheese- 5oz or more
$0.75/1 Nabisco Wheat Thins
$1/1 Kashi Frozen Yogurt Multiserve
$1/2 Trident gum- multipack
$0.75/1 Listerine 16oz+
$0.75/2 Ziploc Food or storage item
$2/2 Pampers Baby Items (wipes 168ct or Diapers 21 ct)
$1/2 Paper Item (puffs, bounty, charmin multipack)
$1/1 Palmolive Dish Soap
$1/2 Glade Air Freshener
$2/2 Fabric Softener or Scent Booster Item (Bounce, Downy, Gain)
$2/2 Gain or Tide laundry detergent items
Check out more great Target deals before you go shopping. You can still text CLEAN and SPRING CLEAN for even more great Target Mobile Coupons too!
Thanks, My Frugal Adventures!