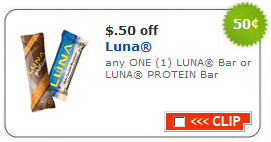 There are several new printable coupons available on the Mambo Sprouts site, including this $0.50/1 Luna Bars printable coupon. I've used this coupon to score FREE Luna Bars in the past, and you should be able to also if your store doubles!
Coupons Available:
$0.75/1 YoBaby Organic Yogurt (4 pk.)
$1/2 Honest CocoaNova
$1/1 Lifeway Frozen Kefir
$1/1 Green & Black's Organic Chocolate Bar (3.5 oz.+)
$1/2 Yogi Granola Snack Crisps
$1/3 Kashi GoLean Bars (single serve or mult-pack)
$1/1 CLIF Kid Zbar (1 bar or 6-pack)
$075/1 Santa Cruz Organic Juice (32oz.)
$1/1 CLIF Crunch Granola Bars
$1/1 R.W. Knudsen Family Just Juice
$0.50/2 Blue Diamond Products
$1.50/2 Nature's Path Organic Granola Bars or Waffles Mix N'Match
$1/1 Stonyfield Organic Activia (4 pk.)
$1/1 Arrowhead Mills Breakfast Product
$1/1 Nasoya Product
$2/1 Rice Select Item (36 oz.+)
$0.75/1 Lundberg Family Farms Brown Rice Pasta
$1/1 Organic Valley Half Gallon Orange Juice
$0.75/1 Rudi's Organic Bakery Bread
$0.75/1 Organic Valley Half & Half Flavored Creamer
$1/1 Country Choice Organic Product
$1/1 Bag or Box of Crunchmaster Crackers
$1/1 Wallababy or Joey Yogurts (4 pk.)
$1/1 Earth Balance Organic Coconut Spread
$0.75/2 Mori-Nu Tofu
$1/1 Earth Balance Organic Soymilk
$1.1 ECOVER Hard Surface Cleaners
$0.55/1 San-J Gluten Free Asian Cooking Sauce or Salad Dressing
$0.75/1 Organic Valley Soy Creamer
$1/1 Dorset Cereals Product
$1/1 Nutiva Organic Chia Seed (14 oz.)
$0.50/1 Lifeway BioKefir (4 pk.)
$1.1 Xlear Nasal Spray or Kid's Xlear Nasal Spray
Thanks, Common Sense With Money!