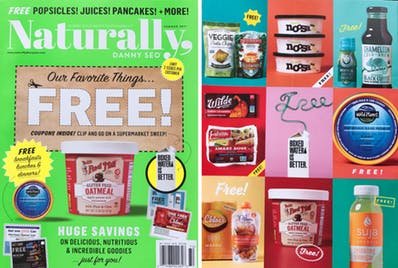 Pick up a Naturally, Danny Seo Magazine – Summer 2017 Edition at Whole Foods and you'll score a nice list of products for FREE with coupons that are included.  You should find it priced at $9.95 – and jam packed with FREE manufacturer coupons that can be used at any store! Here's what you'll find coupons for inside:
FREE Noosa Yoghurt (8 oz.)
FREE Boxed Water (500 ml)
FREE Wilde Bar (max value $2.99)
FREE Smart Dogs Package
FREE Chloe's Pops, any variety
FREE Plum Organics Baby/Toddler Clear Pouch (max value $1.99)
FREE Kuli Kuli Moringa Green Energy 2.5oz (max value $4)
FREE Chameleon Cold Brew Ready to Drink Coffee 10oz (max value $4.99)
FREE Suja Drinking Vinegar
FREE Bob's Red Mill Oatmeal Cup (max value $2.99)
FREE Wild Planet Albacore Tuna Can (max value $4.99)
FREE Pasta Chips 5 oz Bag (max value $3.99)
FREE Birch Benders Pancakes Pouch (max value $5.99)
Thanks, Money Saving Mom!