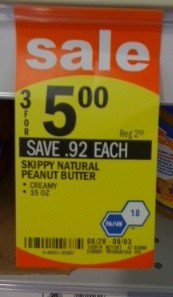 If you're heading to Meijer, check the price on Skippy Peanut Butter.  I found sale signs next to it that make for a really great deal if you have one of these store coupons to pair with it:
Skippy Peanut Butter (15 oz.), 3/$5
$2/2 Skippy Peanut Butter with in-ad coupon
$2/2 Skippy Peanut Butter (mPerks)
$0.67 ea. wyb 2 after coupon!
You'll only be able to use one coupon per transaction.  I found this sale at 2 different Meijer stores, but can't guarantee that it'll be at every location.
Let us know if you find it at your Meijer too!
Sarah from Give Me Neither is the Deal Seeking Mom Store Expert for Meijer. At Give Me Neither, Sarah finds joy in helping her readers simplify saving, showing that there's a place for quality even in a budget and that living richly doesn't mean you need to be rich.