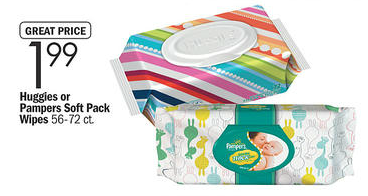 Pick up Pampers wipes for as low as $0.49 at Meijer, starting April 29, 2012.
Pampers Soft Pack Wipes, $1.99
$0.75/1 Pampers Wipes printable
$0.50/1 Pampers Wipes, exp. 4/30/12 (P&G 04/01/12)
$0.49 to $0.99 ea. after doubled coupon!*
Be sure you pick up the packs that are 60 ct.+ to meet the coupon requirement.
Pampers Baby Dry (23-50 ct.), Cruisers (20-31 ct.), or Swaddlers (30-40 ct.), $9.49
$1.50/1 Pampers Swaddlers or Swaddlers Sensitive Diapers printable
$1.50/1 Pampers Cruisers or Baby Dry Diapers printable
$1/2 Pampers Diapers or Pants, exp. 5/31/12 (P&G 04/29/12)
$1/2 Pampers Diapers or Pants, exp. 4/30/12 (P&G 04/01/12)
$7.99 ea. after coupon!
Also Pampers is one of the participating brands in the $10 P&G Visa Prepaid Card promotion. Get $10 Visa Prepaid Card by mail via Meijer Custom Coupon at checkout, buy $40 or more in participating P&G products in a single transaction.
Sarah from Give Me Neither is the Deal Seeking Mom Store Expert for Meijer. At Give Me Neither, Sarah finds joy in helping her readers simplify saving, showing that there's a place for quality even in a budget and that living richly doesn't mean you need to be rich.