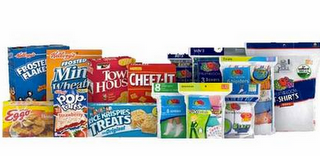 Meijer has a nice Kellogg's/Fruit of the Loom promotion going on that can net you a great deal on cereal and underwear right now! Strange combination, I know — but a deal's a deal.
Buy $10 worth of ANY Kelloggs, Keebler, Sunshine or Eggo products (any size, flavor or variety) receive $10 off instantly on the purchase of 3 Fruit of the Loom products (t-shirts, socks or underwear). Limit 1 offer per transaction.
Here's a scenario to try out:
Buy (4) Kellogg's Fiber Plus Cereal, $2.50 ea.
Buy (3) Fruit of the Loom Basics, psa $2.99
Use (4) $1/1 Kellog's Fiber Plus Cereal printable
Use $1/2 Fruit of the Loom Products printable
As low as $9.97 for 4 boxes of cereal and 3 Fruit of the Loom products!
If you have a toddler, you might also look for the Fruit of the Loom toddler underwear priced starting at $2.44.
Thanks, Saving Addiction!