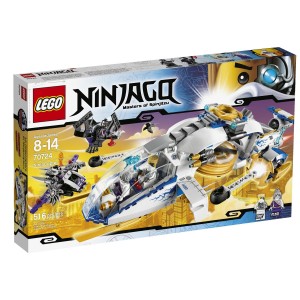 Here's another favorite LEGO set on sale now from Amazon! You can get the LEGO Ninjago NinjaCopter Set for $44.99 (reg. $59.99).
Includes 4 mini figures with weapons: Zane, Pixel and 2 Nindroids
Ninja Copter features hi-tech cockpit, rotating propeller for takeoff and flight mode, rotating jet engines, air intake engines, adjustable landing flaps
Capture a Nindroid in the prison cell; Weapons include translucent blue Techno-Blade for Zane, Nindroid battle saw blades and Pixel's spike blade
Nindroid jet fighter features adjustable cockpit, spinning saw blades and a detachable glider and measures over 1″ high, 4″ long and 4″ wide
Ninja Copter includes flick missiles, front lasers, shooting cannons, prison cell and measures over 3″ high, 14″ long and 6″ wide
Thanks "Cents"able Momma!