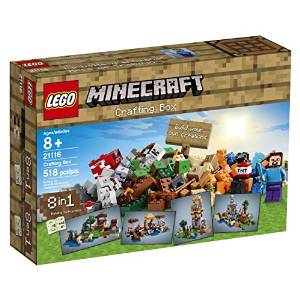 Your Minecraft fan will love this LEGO Minecraft Crafting Box
, on sale now for $42.99 (reg. $49.99) with FREE Shipping!
Includes a Steve with an accessory, plus a skeleton and a mooshroom,Also includes s skeleton's bow, a pickaxe and 521 assorted LEGO pieces
Features Redstone and lapis elements, plus torches, plants, oven, TNT, mature wheat and a periodic table poster with the LEGO Minecraft elements
The perfect gift for fans of LEGO building and Minecraft! Combine with other biomes in the series to create your own LEGO Minecraft world
Rebuild using the 8-in-1 building instructions or inspirational images and scenarios for more LEGO Minecraft adventures
Measures 3″ (10cm) high, 12″ (31cm) wide and 9″ (22cm) deep
Check out other LEGO Minecraft Sets
available too – starting at $19.99.
Thanks, "Cents"able Momma!