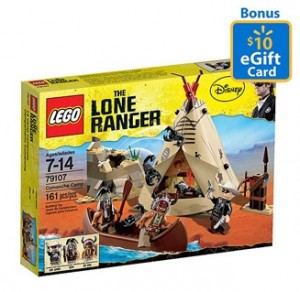 Right now on Walmart.com you can pick up this LEGO Lone Ranger Comanche Camp Play Set for $19.97 with a bonus $10 Walmart eGift Card!  Your LEGO Lone Ranger fan will love this set (and you'll have fun with your BONUS $10 eGift Card)!  This set includes:
161-piece LEGO Lone Ranger set includes 3 minifigures: The Lone Ranger, Tonto and Red Knee
Features teepee, weapon rack, canoe with oar, and rocky outcrop with scorpion attack function
Teepee features small campfire, entrance flap and removable canopy
Weapons include 2 revolvers, tomahawk, spear and a bow with quiver
Also includes a fish, 3 scorpions and 3 bones
Survive the scorpion attack
Go fishing in the canoe
Remove the teepee canopy and play inside
LEGO Play Set Teepee measures: 3″W (10cm) x 4″D (12cm) x over 6″H (16cm)
Canoe measures: over 4″L (12cm) x less than 1″W (2cm) x less than 1″H (2cm)
Weapon rack measures: less than 1″W (2cm) x 1″D (1cm) x over 1″H (3cm)
Rocky outcrop measures: 3″W (10cm) x 2″D (7cm) x over 2″H (7cm)
Comanche Camp Lone Ranger Set Model# 79107
Thanks, For The Mommas!