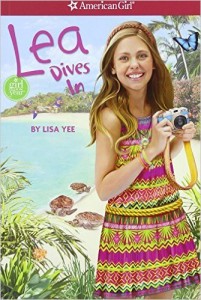 Today from Amazon you can pick up Lea Dives In (American Girl Today) for $9.99
! Lea is the American Girl Doll of the Year this year.  Here's a snippet about the book:
Lea Clark is ten years old and ready to explore the whole world, just like her grandmother! But first she'll start with a family trip to Brazil, where her big brother, Zac, is studying the rainforest. Lea is really excited to see the ocean and when she does, she realizes she'd rather take picture of it than swim in it. Can she overcome her fear and dive in? Then she meets a fun new friend who inspires her to embrace the thrills and beauty of Brazil. But when the fun turns to danger, Lea must find the courage to face adventure head on! Where will the next adventure take her?
Thanks, My Frugal Adventures!