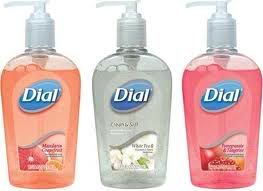 There's a new Kroger coupon booklet out! The booklet is called Stay Prepared Stay Healthy and it is available when you ask the pharmacist about the Flu Shot. You do not need to get the flu shot to get the coupons; just ask about it. If you are lucky, the booklets will be sitting on the counter at your pharmacy!
Included Coupons:
$0.75/1 Clorox Disinfecting Wipes
$0.75/1 Clorox Cleanup (32 oz.)
$0.50/1 Dial Hand Sanitizer (7.5 oz. pump)
$0.50/1 Dial Complete Foaming Hand Wash
$1/1 Centrum Multivitamins (60 ct.+)
$1/1 Colgate 360, Max Fresh, or Total Toothbrushes
$0.75/2 Dial Hand Soap
$2/1 Zicam
$0.75/1 Halls Cough Drops
$1/1 Theraflu Day/Night or Triaminic Day/Night Value Pack
$1/1 Robitussin
If you find one of the coupon booklets, Dial is on sale this week!
Dial Liquid Hand Soap or Bars (2 ct.), $1
$0.35/1 Dial Bar Pack or Liquid Hand Soap, exp. 10-01-10 (RP 08/15/10)
$0.75/2 Dial Hand Soap (Kroger Booklet)
From $0.25 to $0.30 ea. after double coupon!*
*Because Kroger coupon policies vary across different regions, you should verify your local store's policy on doubling coupons.
Make sure to look over all of this week's Kroger deals before you shop!
Renae from Madame Deals is the Deal Seeking Mom Store Expert for Kroger. At Madame Deals, she teaches others how to make dollars out of change with store deals, recipes, money saving tips, ideas on stockpiling and fun family activities.