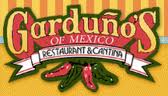 Kids eat FREE every Monday and Wednesday at Garduno's of Mexico Restaurant & Cantina!  Every day kids 12 & under can enjoy a kid's meal with beans, rice and a sopaipilla for dessert! But on Monday and Wednesday it only gets better because the kid's meal is FREE!
As always, be sure your location is participating before you go.
Every week I'll be sharing my favorite Kids Eat Free deals, so be sure to refer back to the full list for any that you may have missed.