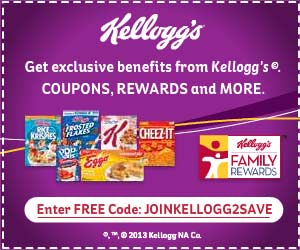 Have you joined Kellogg's Family Rewards yet? You can earn points to get coupons for some of your favorite products!  Right now you can enter GRAINSDAIRYFRUIT to earn an easy 50 points!
Be sure to check out the previous Kellogg's Family Rewards codes I've posted. Make sure you haven't missed any of these:
THREEDAYVACATION

EUROPEANVACATION

KELLOGGSFREEBOOK
HEALTHYRETURNS20
TEXTINMYKFRCODES
HOWITWORKS20PNTS
KFRFAVPOPTARTS10
SCHOLASTICSWEEPS
Thanks, Just Giant Eagle!