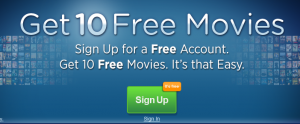 Right now you can enjoy 10 FREE Movies when you join Vudu!  Create your new account and link an UltraViolet account (which is also FREE) and you'll have 10 FREE movies that you can stream to your television through a Roku player, Xbox 360, PS3 and more.  Vudu is great for renting or buying digital versions of all kinds of movies.  The current FREE movie selection includes:
A Knight's Tale
Valentine's Day
Rudy
Away from Her
Soul Survivors
Psycho
The Producers
So I Married an Axe Murderer
Ghost
Paranormal Activity
The free movie titles are subject to change at any time.  This offer is valid through 6/30.
(Thanks, "Cents"able Momma!)