PINCHme FREE Sample Tuesday is coming up next week — mark your calendars for Tuesday July 14th at 12pm EST! They're going to have some awesome samples to choose from this month.
In the meantime, you really should check out the beautiful brand new PINCHme website. It's much easier to navigate, which should make claiming your free samples that much easier!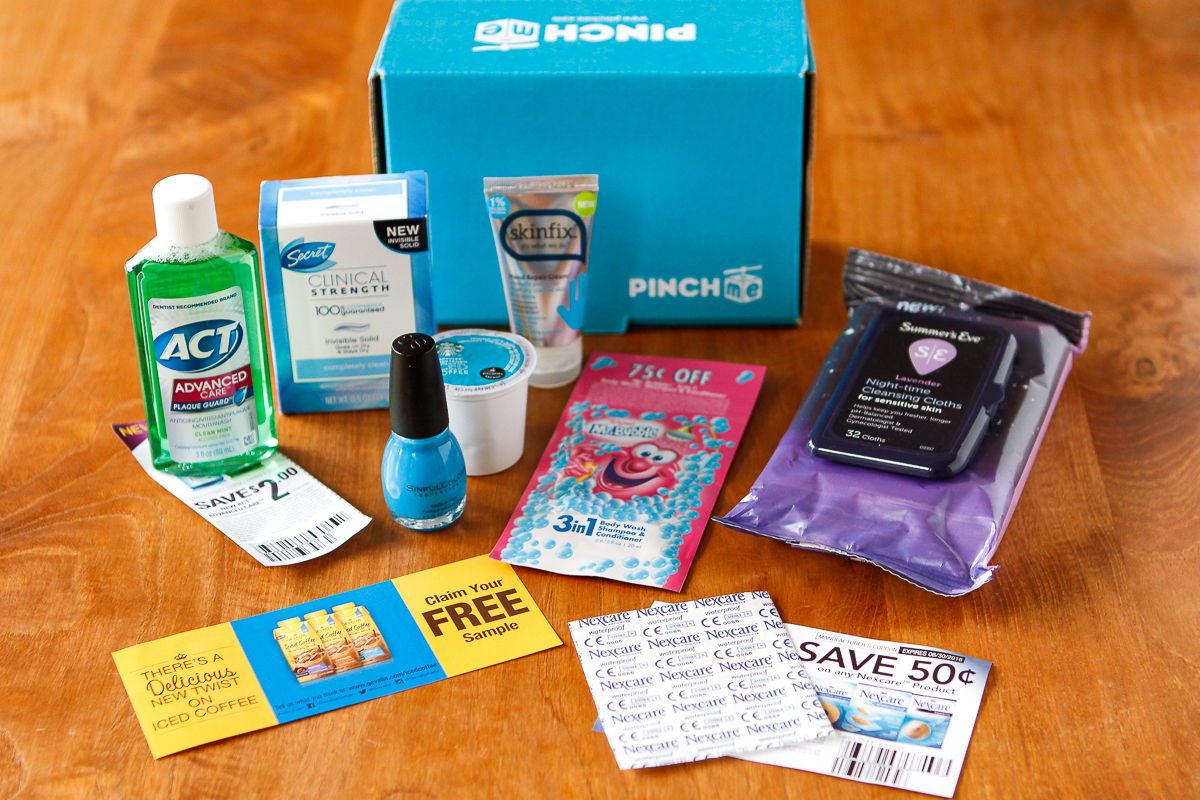 I received a lovely surprise in my mailbox yesterday — PinchMe sent me a preview box filled with some of the free samples that might be available to you this month. Here's what was in my box:
Starbucks Sweetened Iced Coffee K-Cup — you can bet I'll be brewing myself a tall cup with this baby this afternoon!
Gevalia Iced Coffee Single Serve FREE Coupon — love that you can choose your favorite flavor: Mocha, Caramel or Vanilla! I'll probably go with the Vanilla… The coupon doesn't expire until 10/31, so there's plenty of time to pick this product up.
Secret Clinical Strength Invisible Solid — perfect timing… I usually use the Smooth Solid, so I can't wait to try this out on our upcoming vacation!
Sinful Colors Professional Nail Polish — my 9-year-old already claimed this gorgeous Aquamarine color as hers. I'll be trying it on my toes, though!
Skinfix Hand Repair Cream — I love that this hand cream is fragrance-free, and the colloidal oatmeal makes it extra moisturizing!
Mr. Bubble 3-in-1 Body Wash, Shampoo & Conditioner — all the fun of the classic bubble bath now for use in the shower, and it comes with a $0.75 off coupon attached!
ACT Advanced Care Mouthwash — I like the Clean Mint flavor of this mouthwash and that it's alcohol-free! It was also packaged with a $2 off coupon for a future purchase.
Nexcare Waterproof Bandages — I'll be tucking these into my beach bag, because I have a feeling they'll come in handy on vacation! They were also packaged with a $0.50 off coupon for a future purchase.
Summer's Eve Night-time Cleansing Cloths — hmm, this is a totally new-to-me product… The Lavender scent is lovely, but my girls thought they were face wipes! These will go in our master bathroom to avoid any confusion.
Preparing for PINCHme Sample Tuesday
To score the best samples, you have to be pretty quick on the draw… If you haven't already registered, I recommend taking a few minutes to do so now. If you have a few more minutes, be sure to answer the Member Profile Surveys so that PINCHme can offer you the best selection of samples suited to you!
Disclosure: I received a box of free samples from PINCHme to facilitate this post. All opinions are my own.