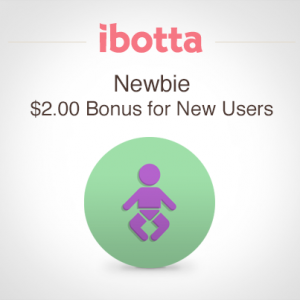 Ibotta is announcing some great new updates for the Ibotta App, including a $2 Newbie Bonus! What's that mean? All new users who sign up for Ibotta can each earn $2 when they redeem 2 offers within the first 2 weeks of registering for Ibotta. SO if you've been dragging your feet about giving the Ibotta App a try – now's a great time to give it a go!
There are other new bonuses available too – if you already have Ibotta, be sure to open the app and download or update to the latest version.  This way you'll be able to see your Bonuses, Store Extras and other new features.  From your main menu you can explore Bonuses to look for ways to earn additional cash.  The more you complete bonuses, the more bonuses you'll unlock!  Here are some of the new bonuses available starting today:
$0.50 April Showers: Redeem any 4 offers by the end of April and earn an extra $0.50. Once you earn April Showers, you will unlock another exciting Bonus!
$1 Steady Eddy:Redeem at least 1 offer each week for 4 weeks in a row. The Bonus clock startson Monday of every week. Remember not to miss a week or the clock restarts all over again!
$1 Coke-Walmart April Challenge: Redeem all 4 Walmart Store Extras by the end of April and earn $1 extra.
If you're happy with your Ibotta App, be sure to share the joy with your friends too! Now you can earn Friend Bonuses too! The payout for each level in Friend Bonuses will be at least equal to $1 per friend referred, and sometimes much more!