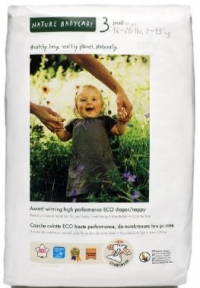 Plum District has several hot offers this week!  You can take 30% off the purchase of all deals when you enter promo code plumlove. (Valid through Friday 9/30.)
You can use this first deal to get an even better deal on a voucher to EcoMom.com this week, a site offering all-natural and organic products for babies, kids, and parents. For $30, you can snag a $60 voucher.  But then use the plumlove code at checkout to bump the price down to just $21!  Shipping is included.  Visit Plum District under their "everywhere" deals, to find the EcoMom sale.
If you're in the market for diapers, here's a great way to get a nice deal on some chlorine-free, eco-friendly ones using this Plum District deal.
Buy the EcoMom voucher for $21, after using the promo code plumlove at checkout.
Once your voucher is ready to use, visit EcoMom and go to the diapers. (Usually your voucher is ready immediately.)
Add 5 packs of Nature BabyCare diapers to your shopping cart.
Go to checkout and enter your PlumDistrict voucher code.
Your total should be $0 with free shipping. Proceed through checkout.
That comes out to paying just $4.20 a pack for eco-friendly diapers, or (13.5 cents each for size 3).
If the EcoMom deal doesn't interest you, Plum District also has a half off voucher to Halloween Mart this week!
Thanks, Group Buy Girl!