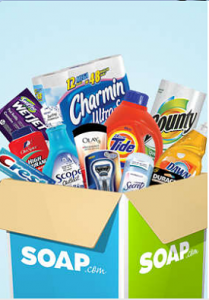 This HOT offer is available in another location today, and you can purchase a second voucher even if you bought one on Monday. Score a $20 Soap.com voucher for just $10 through LivingSocial, another group deals site similar to Groupon. This will net you 50% off a variety of hot brands!
Here's how:
Select "More Cities" on the left and go to "Seattle" for the Soap.com offer.
Click Buy Now to purchase your gift card.
Offer only applies to the following brands: Accu-Clear, Align, Always, Ariel, Aussie, Bold, Bounce, Bounty, Braun, Camay, Cascade, Charmin, Cheer, Clairol, Clearblue Easy, CoverGirl, CoverGirl & Olay, Crest, Dawn, Downy, Duracell, Era, Fact Plus, Febreze, Fixodent, Gain, Gillette, Gleem, Head & Shoulders, Herbal Essences, Ivory, Ivory Snow, Joy, Metamucil, Mr. Clean, Olay, Old Spice, Oral B, Pantene, Pepto-Bismol, Prilosec, Puffs, Pur, SafeGuard, Scope, Secret, Swash, Swiffer, Tampax, Tide, Tide To Go, Vicks
Limit one per household, buy 1 additional as a gift. Shipping and handling charges are not included and will be calculated at time of checkout. Free overnight delivery on your order of $25 or more. Delivery times may vary – some areas may receive two-day delivery; other restrictions may apply. Vouchers cannot be redeemed for purchases of gift certificates and can only be applied to one order; the full value must be redeemed in a single transaction. Vouchers cannot be reloaded, resold, transferred for value, redeemed for cash or applied to any other account. Promotional value expires on December 28, 2011.
(Thanks, Coupons on Caffeine!)