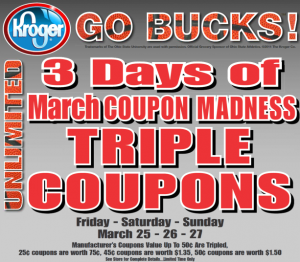 Starting today through Sunday, March 27th, Kroger stores in Central Ohio (and elsewhere?) will be holding a triple coupon event! Remember to call your store and confirm their participation.
How Triple Coupons work:
Coupons up to and including $0.50 will be tripled. This means that a $0.50 off coupon is equal to a discount of $1.50.
If your store normally doubles up to $0.99, coupons with a value of $0.51 to $0.99 will continue to be doubled.
There is no limit on the number of coupons you can use.
Make sure to check out the DSM Coupon Database for a list of available coupons! Click on advanced search and change the value to $0.50/1 to find the best coupons to triple.
If your store is participating, please leave a comment sharing your location.
Thanks, Competitive Grocery Shopping!