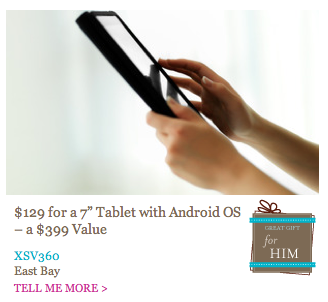 I mentioned in the Apple Amazon price match post last night that I'm an Apple devotee, but this is a pretty compelling price on an Android tablet. Get a 7-inch Android tablet for as low as $72.40 on Plum District right now!
Tablet specs include: A/C adapter/charger, stylus, manual, and external RJ-45 USB hub for adding additional devices. Slim and Lightweight Black Mini Laptop Android 2.2 FLASH 10.1, WiFi and external 3G 7.2″ digital touch screen, 800X480 pixels 3.0 megapixel camera / webcam.
Here's how to get this deal:
Register with Plum District (new members get a $5 credit!) or sign in.
After you register or if you're already a member, click here to go directly to the offer.
Use promo code saturday40 at checkout to get an additional 40% off your purchase.
Complete your order, and your Plum District voucher should be available for printing immediately; however, it won't be activated until the deal closes!
May not be applied to taxes & shipping. Voucher must be used in 1 transaction. May not be combined with other offers. Limit 1 voucher per transaction. Voucher is transferable. Expires 02/25/12.
This deal expires Tuesday evening (assuming it doesn't sell out before then), but the 40% off promo code is only valid today!