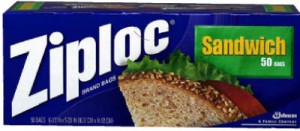 I was surprised to find a $1.50/2 Ziploc Products coupon laying on my printer when I went to pick up my Shout Stain Remover printable coupon for the Target deal I just posted. It turns out that the link I posted actually prints three coupons — the Ziploc coupon, the Shout coupon, and a $2/1 OFF! PowerPad or Lantern coupon.
It's been awhile since I've looked for them, but I know we used to be able to find the travel size Ziploc Bags in the checkout aisles at Target and Walmart regularly priced at $1. The $1.50/2 Ziploc Products printable is good on any two items, so if these are still around, we can score Ziploc bags for around $0.25 each!
Has anyone seen these lately? Regardless, it's a good coupon that won't last long!