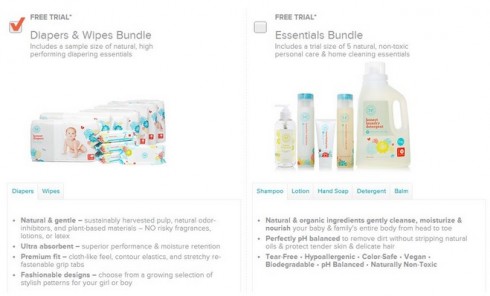 Join The Honest Company today and you can snag a FREE Diapers & Wipes Bundle or choose a FREE Essentials Bundle if you prefer. Here's how:
Register with The Honest Company and click "get started."
Confirm your registration and click "Join for FREE."
Find the FREE Trial offer and click "get started."
Ordering this FREE Trial automatically enrolls you in their monthly autoship program – make a note on your calendar to cancel if you don't wish to continue!
Choose your bundle and proceed to checkout.
Use promo code invited10 during checkout to enjoy FREE shipping too!
Enjoy trying out your FREE Honest Company Discovery Kit!
The fine print:With your FREE Discovery Kit, you will become enrolled as a MEMBER of The Honest Company. You have 7 days following receipt of your Discovery Kit to cancel your membership at any time, for any reason. We will remind you several times about your membership options. If you choose not to cancel your membership, you will be charged $79.95 for your monthly supply of Diapers (shipping is free!), $35.95 plus $5.95 for your monthly supply of Essentials, or $39.95 plus $5.95 for your monthly supply of Health & Wellness products.
(Thanks, Military Wives Saving!)