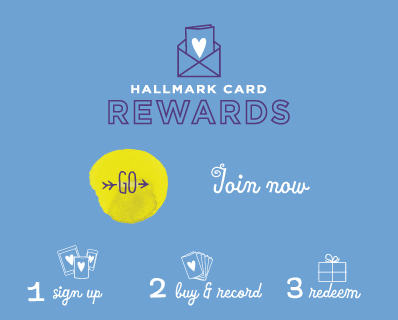 Did you know that now you can get rewarded everywhere that you buy Hallmark cards?!?
That's right, with the new Hallmark Card Rewards, each time you purchase 5 Hallmark greeting cards at any of the 30,000 grocery, drug stores and supercenters across the U.S. where Hallmark cards are sold, you can redeem your credits for some pretty awesome rewards.
5 Hallmark Cards = 1 FREE #HallmarkCardRewards Reward
Sign up for Hallmark Card Rewards now to start earning credit toward rewards like a $5 Old Navy eGift card, a Lands' End $5 gift card, a $5 Pizza Hut eGift card, and more. Rewards are subject to change, so who knows, you may find something even better!
If you're already a Hallmark Crown member, registering for Hallmark Card Rewards is even easier. The site will prompt you to look up your Hallmark Crown membership and then prefill the registration form.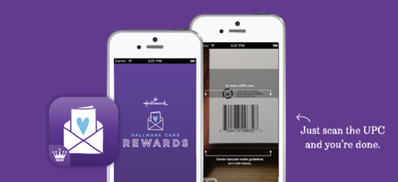 3 Steps To Earning Your FREE #HallmarkCardRewards
Once, you're registered, earning your credits is a snap. Simply enter the UPC or product identifier from the back of the card on the Hallmark Card Rewards website or via the Hallmark Card Rewards mobile app (available for iPhone and Android).
Scan the barcode or enter the UPC or product identifier from the back of your card.
Choose the store where you made your card purchase.
Click the "report card" button to submit your purchase.
Your account will be credited with your purchases within 3-5 business days. Once you've accrued 5 credits, you can redeem them for your favorite reward!
Current #HallmarkCardRewards Offers
As I mentioned, rewards can change at any time, but you can find the following Hallmark Card Rewards offers available now.
$5 Lands' End gift card
$5 Old Navy egift card
$5 Pizza Hut egift card + $1 breadsticks
$10 Omaha Steaks e-reward card
$10 Restaurant.com egift card
25% off at HoMedics + free shipping
$100 Delta Vacations e-certificate
Keurig K45 Brewing System sweepstakes entry
With the number of birthday cards that we purchase for our kids and their friends, we'll be earning Old Navy egift cards in no time!
So what are you waiting for? Register for your Hallmark Card Rewards account now to start earning toward your favorite reward offer.
This post is brought to you by >Hallmark Card Rewards. All opinions are 100% mine.