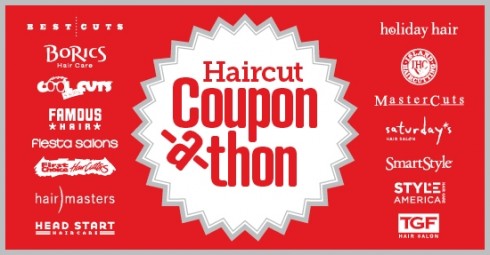 Back to school means shopping for school supplies, new backpacks, clothes, and shoes, and it also typically involves marching all of the kids into the salon for fresh haircuts. All of that can put quite a dent in your wallet.
Did you know that the National Retail Federation estimates that the average person with children in grades K-12 will spend $688.62 per child to get ready for back to school this year?!? If you have a child entering college that number increases even more to $907.22 per child.
Gosh, I sure hope you're not spending that much — those numbers just blow my mind! Hopefully you've been taking advantage of the many back to school deals I've been sharing over the past couple of months to stay well within a reasonable budget.
Still looking to save on haircuts? The Regis Family of Brands is helping families save this year with their "Haircut Coupon-a-thon". Through September 30th, you can head to any of Regis' fifteen salon brands with over 4,500 locations across the U.S., Canada and Puerto Rico to score a haircut for just $7.99 ($9.99 in select markets). And this event isn't just for kids — the entire family can take advantage of these savings!
As a busy mom, I really appreciate that Regis Family of Brands salons have a no-appointments-needed policy, so you can walk in whenever it's convenient for you and the whole family. Simply print your Haircut Coupon-a-thon coupon, load up the family in the car, and head to your nearest salon.
Trouble printing coupon? Email [email protected] with the salon brand you'd like to visit and they'll send you a coupon.
Below is a list of all participating brands:
Best Cuts
BoRics
Cool Cuts 4 Kids (participating salons only)
Famous Hair
Fiesta Salons
First Choice Haircutters (U.S. participating salons only)
Head Start Salons
HairMasters
Holiday Hair
Island Haircutting Co.
MasterCuts
Saturday's
SmartStyle (located inside Walmart Supercenters)
Style America
TGF Hair Salons
These participating Regis locations are full-service salons offering additional services like highlights, color, perms, waxing and more. They also carry a wide range of professional haircare products from all your favorite brands: Biolage, Redken, Paul Michell as well as their own private label lines.
To get your coupon, visit the Beauty Bargains blog, select your favorite salon brand and print.
Disclosure: I was compensated for writing this blog post while participating in the SocialMoms and the Regis Family of Brands blogging program. The opinions and ideas expressed here are my own.