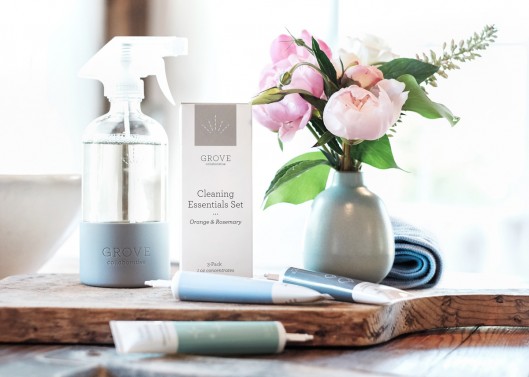 As you know, I'm a BIG fan of this homemade glass cleaner I shared earlier this year! It's become super popular on Pinterest for using simple ingredients, as well as being easy to make and non-toxic.
But I've also received feedback from a number of moms who say they just don't have the time to make their own DIY cleaning products. They want a more convenient solution, one that doesn't require measuring several different ingredients, yet is still non-toxic AND budget friendly.
Because let's face it — making the switch to green cleaning products can be expensive. Until now…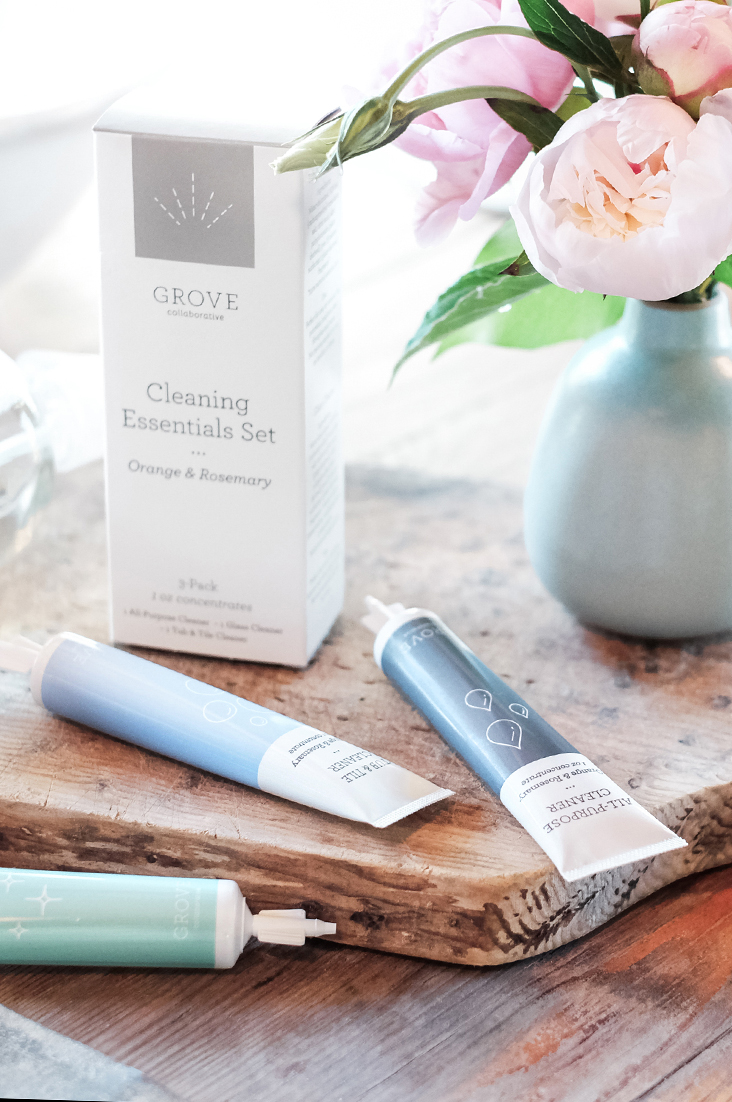 I'm so excited to introduce you to these new cleaning concentrates from Grove Collaborative. Instead of buying a big plastic bottle of cleaning solution, you just dispense the concentrate into your spray bottle, add water, and voilà! You don't need a cabinet stuffed with high dollar green cleaning products. The concentrate refills take up almost no space at all AND you'll actually use fewer (yet better!) products.
I've partnered with Grove to give you a jump start on your green cleaning routine by grabbing this free set of cleaning concentrates + glass spray bottle + microfiber cloths FREE with your first purchase of $20…
When you place your first order of $20 with Grove, here's what you'll get:
Grove Collaborative Cleaning Concentrates (3-pk.)
Grove Collaborative Glass Spray Bottle with Silicone Sleeves
Grove Collaborative Microfiber (3-pk.)
FREE Shipping & 60 Day VIP Trial
That's over a $30 value FREE with $20 purchase!
How often do you see a free offer where the freebie is actually a higher value than what you need to spend to get it??? In my experience, almost never.
The Cleaning Concentrate 3-Pack contains one refill each of the All Purpose Cleaner, Glass Cleaner, and Tub & Tile Cleaner. All are free of harsh chemicals, colorants and synthetic fragrances and are scented with 100% natural essential oils. I just adore the fresh orange & rosemary fragrance!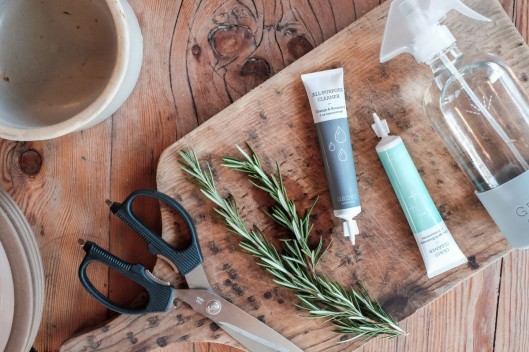 Don't miss out on this cleaning essentials set! Here's how it works:
Sign up for Grove Collaborative here. You will receive the Personal Care Set for free when you sign up!
To receive this offer, your order needs to be a minimum of $20. Your cart may autopopulate with some suggested products, but you can delete them and choose the combination of products and scents you love! You'll receive your first box within a few days.
You made it! Click Finish & Pay and place your order.
Need an idea for what to order to qualify for this offer? MY suggestion is to add two more of the Glass Spray Bottles so you can mix up a batch of each cleaner. Just make sure to adjust the colors of the silicone sleeves in your cart so you get one of each.
Your total will be $25.90, qualifying you for the FREE Cleaning Essentials set. Set! Plus, when I just tested this, Grove added a bonus FREE Stoneware Tray to my order valued at $9.95!!!
CURRENT CUSTOMER BONUS: If you are already a Grove Collaborative customer, click to get a FREE set of the Grove walnut scrubbers. Yay!