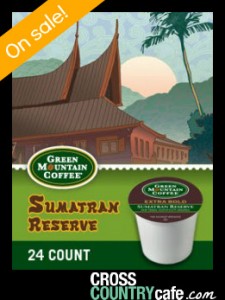 Cross Country Cafe has a great sale going on this week – that's right – not just today but now through Tuesday (9/9) on a great variety of Keurig K-Cups!  You can score some Green Mountain Sumatran Reserve Keurig K-Cups on sale for $11.99 per box of 24. Sumatran Reserve is an exotically dark roast cup of coffee that is organic and Fair Trade certified.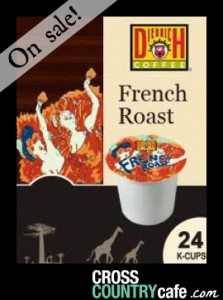 You can also pick up Diedrich French Roast Coffee Keurig K-Cups for $9.99! (That's $0.42 a K-Cup.) If you like your coffee dark and toasty but not bitter or burnt, then Diedrich Coffee's French Roast K-Cups are just right for you. Made from a blend of Arabica beans that lend themselves to a strong dark roast, this French Roast has a touch of molasses that is deeply satisfying.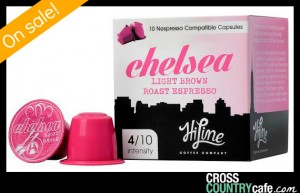 Also pick up Chelsea Nespresso compatible capsules – on sale this week for $4.99 per box of 10! You'll enjoy Chelsea – a light roast gourmet espresso blend with a 4/10 intensity offering a fruity blend with hints of cinnamon.
Green Mountain Sumatran Reserve Coffee Keurig K Cups, $11.99 ea.
Diedrich French Roast Keurig K Cups, $9.99
Chelsea Nespresso Compatible Capsules (10 pk.), $4.99
Enjoy FREE Shipping wyb $59 or more
$0.42-$0.50 per cup!
While you're stocking up – be sure to check out the Closeout Sale going on now – you'll find a great variety of K-Cups at nearly 20% off regular prices! Here's some of what you'll find:
Green Mountain Coffee English Toffee Keurig K-cups, $8.50 (reg. $10.99)
Gloria Jeans Macadamia Cookie Keurig K-cups, $8.50 (reg. $10.99)
Newman's Own Fair Trade Organic Almond Biscotti Keurig K-cups, $8.50 (reg. $10.99)
Timothy's German Chocolate Cake Keurig K-cups, $8.50 (reg. $10.99)
and more!