Cross Country Cafe has a great sale going on this week – that's right – not just today but now through Tuesday (5/27) on a great variety of Keurig K-Cups!  You can pick up Green Mountain Coffee's Our Blend Keurig K-Cups for $11.49! (That's $0.50 a K-Cup.)  Green Mountain Our Blend K-cups offers a traditional medium roast that is mild, smooth and aromatic with a thick body that will appeal to the masses.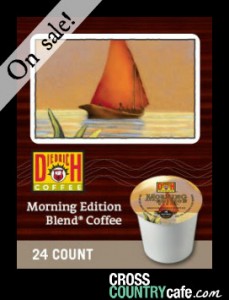 You can also pick up a 24-count pack of Diedrich Morning Edition Coffee Keurig K-Cups. Worth waking up for, Morning Edition K-Cups from Diedrich Coffee give you a cup of full bodied medium roast Arabica coffee with hints of creamy vanilla, and leathery spicy aromas. A great way to start your day.
Green Mountain Coffee Our Blend K Cups, $11.49 ea.
Diedrich Morning Edition Keurig  K Cups, $9.99
Enjoy FREE Shipping wyb $59 or more
$0.42-$0.50 per cup!
Also included in this week's sale you'll find:
Black Tiger Keurig Kcups, $12.99 (reg. $13.75)
Donut House Collection Cinnamon Roll Keurig K-cup coffee, $12.99 (reg. $13.75)
Fair Trade Gingerbread Keurig Kcups, $9.99 (reg. $13.75)
Cafe Escapes Milk Chocolate Hot Cocoa, $12.99 (reg. $13.75)
Pumpkin Spice Chai Kcup Tea, $6.99 (reg. $7.49)
Spiced Apple Chai Kcup Tea, $6.99 (reg. $7.49)
Tully's French Roast Extra Bold Keurig Kcups, $12.99 (reg. $13.75)