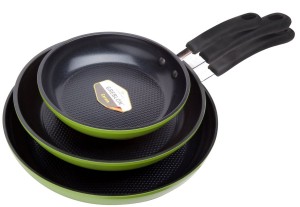 Today on Amazon you can get this Green Earth Frying Pan 3-Piece Set by Ozeri for $56.38 (reg. $129.99) with FREE Shipping
!  This set includes an 8″, 10″,  and 12″ pan, with Textured Ceramic Non-Stick Coating from Germany (100% PTFE and PFOA Free).
Unlike other ceramic pans, the Ozeri Green Earth Pan utilizes GREBLON – an ultra-safe ceramic coating from Germany which is 100% PTFE and PFOA free.
Innovative textured pan surface delivers enhanced heat distribution and superior non-stick performance without ever releasing harmful fumes or toxins.
Features a scratch-resistant 100 percent ceramic coating that is super easy to clean.
Made out of durable heavy-gauge die-cast aluminum with no heavy metals or harmful chemicals.
Each pan boasts a comfortable heat resistant silicon coated handle and a magnetized induction stove safe base for rapid heat transfer.
Thanks, Redefined Mom!